Esx Wave Organizer
New Version Available:
Esx Wave Organizer is no longer maintained. The new version of the program is called Open Electribe Editor. This page is here solely for archive purposes.
To download the new version, please visit the Open Electribe Editor page.
Info
ESX Wave Organizer is a program that allows you to organize, edit, and create .esx files for the Korg ESX-1. It uses a standard Windows "drag-and-drop" interface, letting you add .esx, .wav, .aif, and .aiff files to the ESX Wave Organizer workspace. It is available for free download here.
Features
Drag-and-Drop ".esx", ".wav", ".aif", and ".aiff" files onto the workspace. You can organize the samples how you want by moving them up and down.

Anytime you drag an ".esx" file onto the workspace, the workspace is cleared, and only that ".esx" file's data is shown. You can then edit and add waves.

You can extract all the waves from an ".esx" file to the directory of your choice.

After organizing and editing your samples, you can create a new .esx file with any name you choose. It's pattern and song data comes from the last ".esx" file you loaded. You can clear all the pattern and song data and the sample will data not be affected.

You can easily view the start, end, loop start, file length, file name, file path, sample rate, sample tune, and stretch step value for each sample. The remaining amount of memory is always visible.

You can preview the waves you added by clicking the "Play", "Loop", and "Stop" buttons.

You can load 8 or 16 bit standard PCM .wav files with any sample rate. It will recognize loop data in the same manner as the ESX-1.

You can load 8 or 16 bit .aif files with any sample rate.

Drag-and-Drop any type of file into the workspace. If it is not a valid .esx or .wav file, it will be ignored. No annoying pop-ups will alert you!

Double clicking on a sample in the list will act as pressing the "Play" button, so you can now preview sounds quicker.

Set all Play Levels with one mouse click.

The new Pattern Editor allows you to view and edit Pattern Properties.

You can now view what Patterns each sample is used in.

You can remove any samples that are not used in a pattern with one mouse click.

Use the Mono and Stereo Organizers to move and rename multiple samples at once.

Use the Mono/Stereo Converter to optimize your workspace and save valuable memory space.

The Song Editor lets you edit your songs quickly.

More Features to come...

It's free!
FAQ
After receiving a few emails, I've decided to create an FAQ:
http://skratchdot.com/projects/esx-wave-organizer/faq/
Download
New download: Open Electribe Editor
Old Download: ESX_Wave_Organizer_v0.1.8.zip (400kb) [Last Updated July 17, 2005]
Requirements:
A system running Microsoft Windows
At least 50MB free RAM
Installation:
No special installation process, just unzip the file and run the program.
Disclaimer:
Remember to back up all your .esx files before using this program. It is not affiliated with or supported by Korg in any way. Use at your own risk.
Donate/Support
If you find the program useful and feel like helping out, you can donate via paypal by clicking the button below:
Screenshots
A screenshot of the main window: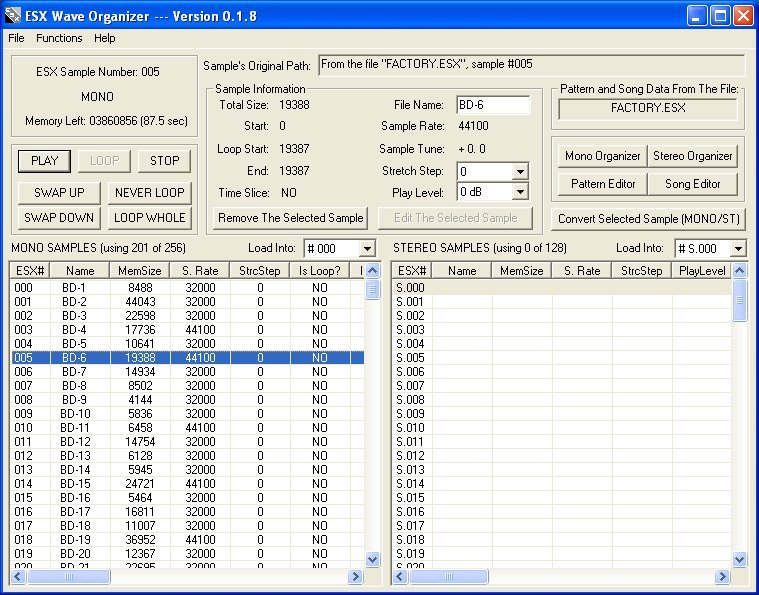 A screenshot of the mono sampler editor window: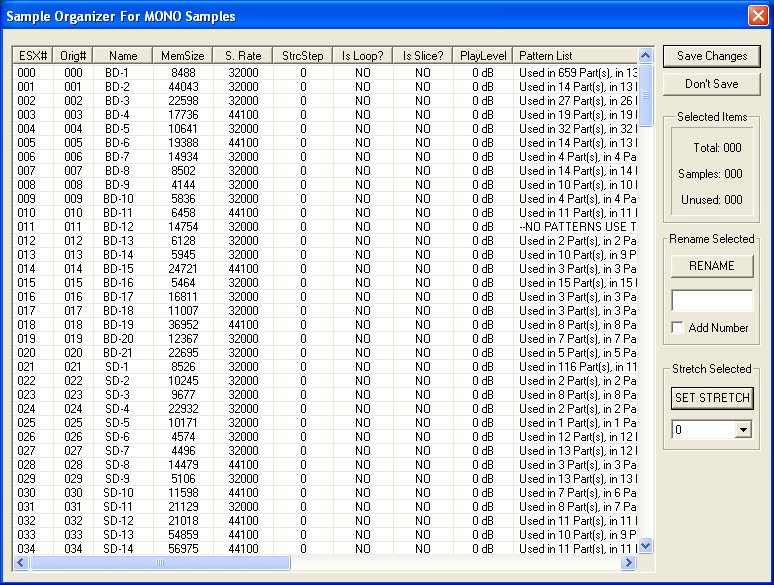 A screenshot of the pattern editor window: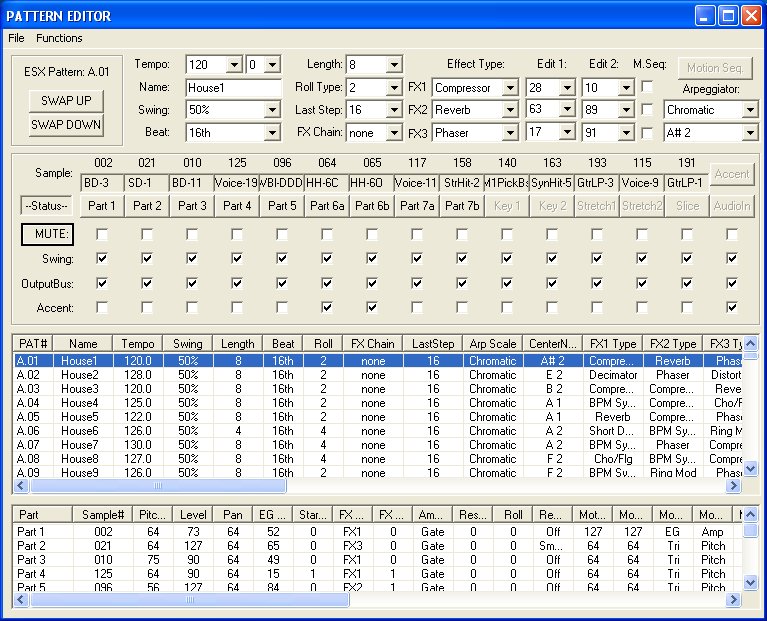 A screenshot of the part editor window:
A screenshot of the song editor window: